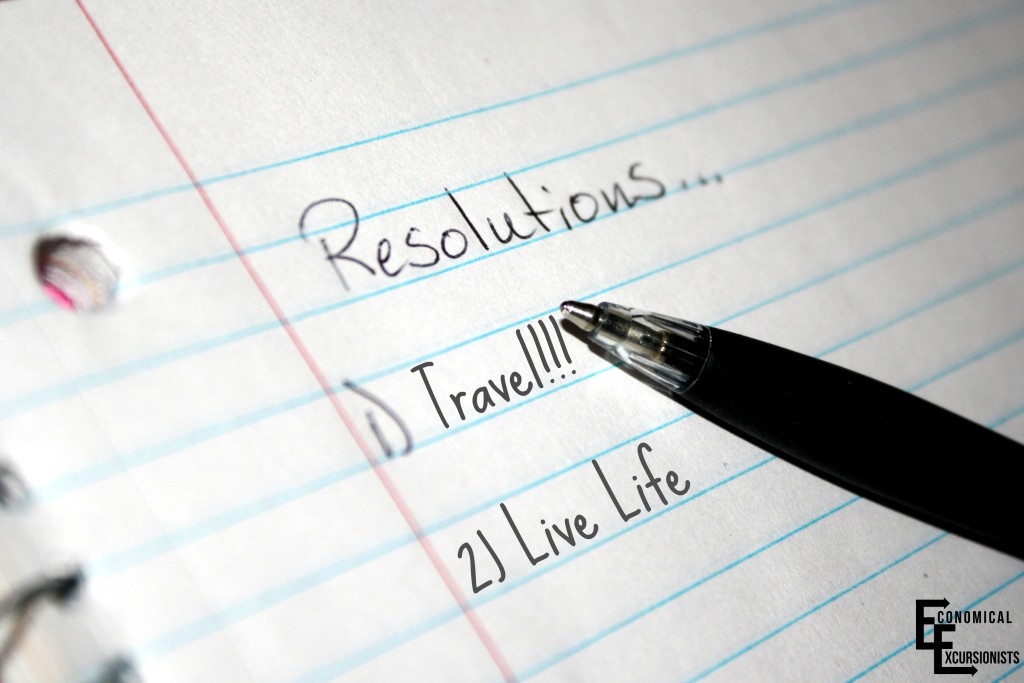 Like so many other goals that people set for the New Years, you probably have the best intention of making it happen but somehow, it just falls by the way-side eventually as life takes over.
Don't let that happen!  Here are 7 steps to make your travel goals a reality THIS YEAR!!!
Throw out the excuses!
I truly believe that this is the first step you need to take in order to make travel happen this year.  I get it, you have
– A job that has crappy time-off policies
– Bills to pay
– A pet that you can't leave behind
– Children whose schedules (or ages) aren't ideal for trips
The list goes on.
But you know what?  Others in your exact same position make it happen.
Most people get about 3 weeks off of work a year.  Fine- comb your vacation policy.  Can you convince your boss to just let you work 40 hours a week (doesn't matter how you get it done, just get it done!).  Are you able to work holidays and then bank those days to combine with your PTO?  Sure, these can make for long days and weeks and may not be the ideal schedules, but if it makes travel a possibility, it is something to consider.
Everyone has bills to pay.  We all have cell phones, credit card bills, mortgages and rent, etc that needs to be paid.  You can't possibly afford a trip on top of that! Wrong!  Start saving and stop making the excuse that travel needs to be expensive (it doesn't!!!)
Your fur-baby will be just fine going to a friends house or going to a well known kennel for a week or two while you take the trip of a life-time.
Stop making excuses and instead MAKE TRAVEL HAPPEN!
Set A Specific Goal
What is your travel goal this year?  Is it to see a new city in a new state or is it to travel across the world?  No matter how big or small that goal is, just set it!
Use this formula to think about the perfect travel goal
I will travel to (Destination) by (Date) for (how long).
Now, write it down. Those who write down goals are more likely to actually achieve them than those who don't.
Post that goal somewhere that you will see it all the time.  Maybe you tape it on your mirror or hang it on your fridge.  Just put it somewhere where it will remain in the forefront of your mind and not something that will be easily forgotten over time.  Having this constant reminder will give you the motivation to keep your goal a priority instead of slipping away like so many other resolutions.
Start Saving
Most likely, your biggest excuse to not being able to travel is the cost.  Start carefully looking at your expenses every month.  In fact, use our Setting a Budget Template to know exactly how much you spend each month and start putting a little aside for a trip each and every week and or month.  You will be amazed at how quickly those lattes, new (unnecessary) shoes, and iphone apps  add up.  Put that money instead towards travel and you will have enough cash for a trip in no time!
Start Researching and Planning
If you are ACTIVELY working on your goal, you are less likely to abandon it.  Set aside 5-10 minutes a week to look up something about the trip you made as your goal.  Research an activity to do there.  Just look at Pinterest pins or be actively looking for good deals on flights and reading reviews on hotels.  The more your goal stays in the fore-front of your mind, the more likely you will stick with it and make it happen.
Buy Yourself Some Travel Goodies
If you invest in a trip before it happens, guess what? Yup….you are more likely to make it happen (am I sounding like a broken record yet?)
Buy yourself a new backpack, a new pair of hiking boots, a new swimsuit…whatever it may be that you may need or will use on the specific trip that you want to take.  This can not only get you even more excited but you will also be more likely to actually have to USE those items as opposed to them lying on your closet floor.
BOOK IT!
At any point, just book your trip!  Once it is set in stone, there is no turning back!  Sometimes, booking something prematurely is just what it takes to make your travel goal and dream an actual reality.  Of course, waiting until you have everything sorted out, planned and ready to go is the safer option, but if you just go and book it, you are committed.  After all, you can plan all your activities and details out later!  Letting the small details of planning can hold you back from ever actually acting and you could remain stuck in dream mode if you don't just go for it!
Make Your Goal a Reality
By this point, you will be ready to go.  Transportation is taken care of, hotels are finalized, you have an idea on an itinerary and your tickets are in hand!  Head out on whatever journey you set for yourself at the beginning of the year and cross it off your list of accomplishments!!!
By following these tips and suggestions, for once, you can actually ACCOMPLISH a New Years Resolution and Goal that you set as opposed to letting that dream die off, like so many other resolutions made in January.
Don't let this year come and go with the best of intentions without action.  Make travel a goal for 2016.
No.  Make travel a REALITY for 2016!!!
The following two tabs change content below.
Author and Creator
at
Economical Excursionists
Former teacher turned blogger turned mom turned full time travel addict, LeAnna has never been one to live life by the rules. Whether she is moving to a farm in Switzerland to learn to make cheese (Yes, CHEESE), jumping off a mountain to paraglide over Cinderella castles, or taking her baby all over the world with nothing but a backpack on their backs, LeAnna designs and defines her OWN life. LeAnna, her husband Andy, and kiddo, "Lil B" love to live a minimal lifestyle, not only for the "thrill" of pinching pennies but in order to save for traveling the world. Considering over 40 countries and 90+ cities have been explored, we'd say they are doing something right!
Latest posts by LeAnna Brown (see all)