Everything You Need to Plan your Icelandic Adventure:
Tools, Resources, Tips and more
What is your favorite part about traveling?
There is a whole gammet of answers out there anywhere from "The Food!" to "Experiencing the cultures" to "Seeing the joy on my child's face seeing the (insert monument, theme park, ocean, etc)"
Chances are, you did not say, "Gee, I just love every part of the planning process!!!"
I mean, why not?  All those choices, options, overwhelming amounts of information, who wouldn't just want to just get lost in the huge world wide web!?
You would think that with the amount of worldly travels, trips and adventures we have taken that I would be a pro at planning trips, and while I definately know many tips and tricks to the trade, that doesn't mean that the copius amounts of information available isn't completely overwhelming!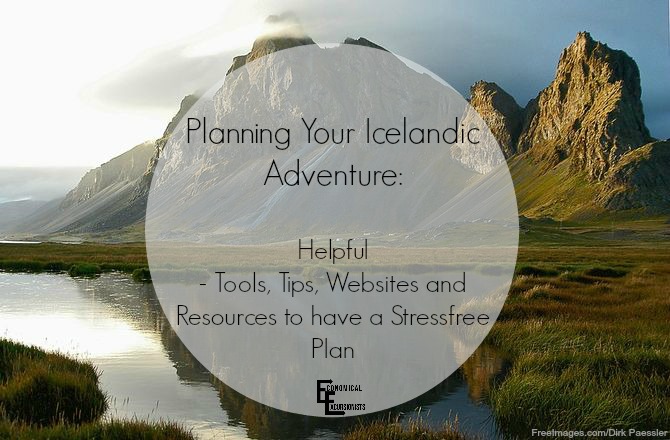 Despite Iceland being a location that I have ALWAYS dreamed of going to, I just couldn't get excited about planning this trip.  I mean, I would sit for hours looking at pictures of the gorgeous scenery and reading stories of chasing the Northern Lights, but when it came time to planning an itinerary, I just couldn't narrow it down!  There were so many choices, options and plans available!!!
As Andy rolled his eyes at my computer's ridiculous amount of tabs up as I spent hours researching, I just wanted to be rich so I could pay someone to figure this all out for me!  But, I'm not…and chances are neither are you.  Which only adds to the stress of planning Iceland because it is so.damn.expensive!!!
However, once I was able to take some deep breaths and get into the groove, I found some extremely helpful resources on planning my Iceland trip.  Hopefully, if you are also trying to plan an Iceland trip, you will find them useful as well.
I) Time
This is probably the first thing you ABSOLUTELY need to figure out in order to help guide what is possible for your trip to Iceland.
A few Days: First, I don't know who has the kind of money to just hop over to Iceland for a few days, but if you somehow finagled some cheap flight but only a day or two, Reykjavik is probably you're best and only option.  You can do a few things using Reykjavik as a base and still see the beautiful town itself as well as some really great surrounding things (Blue lagoon, Golden Circle…)
A Week:  While still pushing it, many people will do the Ring Road in a week's time.  It is the perfect introduction to Iceland
Over a Week: Expand on the Ring Road and get into the interior (weather/season permitting).
II) Transportation Within
Cars: One of the best ways to really see and explore Iceland is to rent a vehicle and DIY.  But then there are still many lingering questions, like "Do I need a 4×4?" or simply, "Who do I rent through?"
Note: We went Mid-October and were told that, generally speaking, until November you probably don't need a 4×4, even for the Ring Road.  However, if you are wanting to get more into the interior (mountains, snow, etc) then double check when you should be looking for a 4×4 vehicle.
Campervans/ RVs: Another extremely popular route to take is to rent a campervan.  While the initial price tag might be staggering, if you consider that most hotels cost at least $100/night in Iceland, knowing that the campervan will be not only your mode of transportation but also your lodging, it isn't THAT mortifying.  There are countless campervan options available, but most of them have similar, basic vans that double as a bed and even a place to cook a simple meal.  We ended up going with GoCamper, which was the cheapest, even with add-ons, at the time.
Tours: Of course you can take a tour through Iceland.  However, as the Economical Excursionist, I will tell you that paying for tours is almost always more expensive than just doing it yourself.  Yes, they figure it all out for you, but that also means you are on their time, have to eat at their restaurants, sleep at their accommodation and probably stick to more of the "touristy" stuff.
III) Lodging
Campervan:
 One of the reasons why I chose the campervan option was so that I didn't even have to figure out lodging!  It was just one less thing that I didn't have to plan.  When going this route, you can stay at any of the countless campsites (
http://en.camping.info/iceland/campsites).
  Alternatively, if you see a great place for the night, pull over and rest pretty much anywhere that doesn't have a "No Camping" sign!
We really liked this because it meant that we weren't locked into any certain amount of things we had to get to in a day, so if we ended up spending longer at, say,Reynisfjall chasing Puffins , that was no big deal.  We didn't have to rush to the next city because we had reservations, instead, we could just pull over, call it good and pick up where we left off the previous day.
Hotels: There are plenty of hotels that you can stay at in the towns along the Ring Road, but, as a budget traveler, I cry a little at the thought of having to pay $100+ for a room (and not even a super nice one, at that!)
Hostels: Depending on how many people you are traveling with, hostels can be a great option for lodging.  There are hostels in most of the major stops along the ring road, making it easy to find accommodation.  At only about $30/night per person (low season), it was far cheaper than the hotel route.  However, we found that after paying for 2 adults for hostel plus a car to get around with, we weren't saving THAT much money over the campervan option.  Granted, knowing you had a place to take a shower and a warm room may be worth something to many people.
Farm Stays: Another popular choice for lodging in Iceland is the FarmStay option.  There is nothing like living with the locals and seeing their life up and personal.  However, even this alternative lodging didn't prove to be that much cheaper than staying at a hotel.
Sleeping Bag Accommodation: Iceland is one of the few countries that is known for giving discounts in certain accommodations for bringing your own sleeping bag.  These are usually the more budget type hotels, but is still a worthwhile option to look into.  You can simply type in "Name of city sleeping bag accommodation" to see what pops up.  We found that there were a few options along the way for this, but not enough to warrant packing a sleeping bag just for this purpose.  If you already are carrying a small, light-weight one with you already, this could be a great pairing to hostels and couchsurfing choices to round out your cheap lodging accommodations.
Couch Surfing: Couch surfing is another perfect budget traveler's option.  There are countless hosts in Reychivik and even many cities along the Ring Road.  However, we found that not all hosts on the site were active and barely got any responses from the ones who were.  However, if you found just a few hosts who accept to take you in and can knock off even just a few cities where you don't have to pay for lodging, you could end up saving a decent amount.
IV) Itineraries
There are so many different itinerary options for Iceland, and they all look absolutely beautiful and necessary, so it is difficult to narrow them down.  My best suggestion is starting with things you KNOW you want to see.  Just start with something simple like Trip Advisor and don't even pay attention to the locations, just start making a list of "Want-To-Sees."  For example, many people will say things like:
The Blue Lagoon
A chance to see Puffins
Glaciers
Once you have a list, then start pinning them onto a google map and see if there is a cohesive route that could get you to them all.  Then, it is just a matter of finding out how much time you'll need at each stop and how long it takes to get in between.  Once you know this, you can start to roughly plan each day and find cities to stay at overnight.
Ring Road: Even if you narrow down your trip to the "Ring Road" there are still countless places to stop at, things to see and towns to stay overnight in.  How did I come up with our itinerary?  Honestly, it was whoever I could find the most throughough explanations of itineraries through online.  So, I ended up combining:
Looking at these different options, I made notes about which towns were recommended by several sources so that we could highly consider these locations.  I also noted where the others were on the map so that as we drove on, we could make decisions on the whim about if/when/where to stop.
Knowing we had the campervan, I wasn't worried about finding lodging and we decided that instead of feeling like we had to stay on a designated timeline and itinerary, that we would just see what we could each day.
Helpful Planning Websites:
Renting Vehicles:
Campervans
: I looked into several campervans and found that
GoCampers
 and
CampervanIceland
were two of the cheapest.  These by no means are the only options and prices could vary, especially depending on your wants and needs
Cars
: Of course look into companies like Budget and Enterprise, but I found that
CheapCarRental Iceland
also had very affordable rates
Camping:
Wild Camping Rules: http://www.theguardian.com/travel/2012/sep/29/iceland-wild-camping-hitchhiking
Lodging:
Farm Stays: http://www.farmholidays.is/
Hostels: http://www.hostel.is/
Sleeping Bag:http://www.south.is/en/where-to-stay/sleeping-bag-accommodation
FlipKey: Similar to AirB&B, but more like Vacation Homes https://www.flipkey.com/iceland-vacation-rentals/g189952
Looking for Puffins:http://icelandmag.visir.is/article/spotting-puffins-here-our-map-showing-best-places-around-iceland
Chasing the Northern Lights: http://en.vedur.is/weather/forecasts/aurora/
Planning trips are hard and overwhelming!!!
Help others out and tell us what resources you found helpful when you went to plan an Iceland trip
The following two tabs change content below.
Author and Creator
at
Economical Excursionists
Former teacher turned blogger turned mom turned full time travel addict, LeAnna has never been one to live life by the rules. Whether she is moving to a farm in Switzerland to learn to make cheese (Yes, CHEESE), jumping off a mountain to paraglide over Cinderella castles, or taking her baby all over the world with nothing but a backpack on their backs, LeAnna designs and defines her OWN life. LeAnna, her husband Andy, and kiddo, "Lil B" love to live a minimal lifestyle, not only for the "thrill" of pinching pennies but in order to save for traveling the world. Considering over 40 countries and 90+ cities have been explored, we'd say they are doing something right!
Latest posts by LeAnna Brown (see all)