[This post may contain affiliate links.  We at EE thank you for helping support this site by using these links so that the mere pennies made may actually accumulate to enough to buy a delicious hotdog while camping]
UPDATED Jan 2017: Thanks to a reader's comment, it's come to my attention that free camping is no longer allowed in Iceland. (WAH WAH!) However, I still can't recommend touring Iceland in a campervan enough.  You'll just have to look into some camping grounds.  Here is a whole list for you to start your trip planning and here is info on the camping card that also lists sites to consider.
Planning a trip to Iceland can be overwhelming!!! There are so many options to choose from for sites to see and places to stay.  Not to mention, it is EXPENSIVE!!!  Being the budget travelers that we are, it was becoming extremely stressful to plan for a trip that was semi-cost efficient!
Read our One Week Itinerary for Iceland Here!
After looking through all our options, I knew that doing a campervan in Iceland was going to be the best option for so many reasons.  We love glamping in the US, so we were ready to take on Glamping in Iceland now!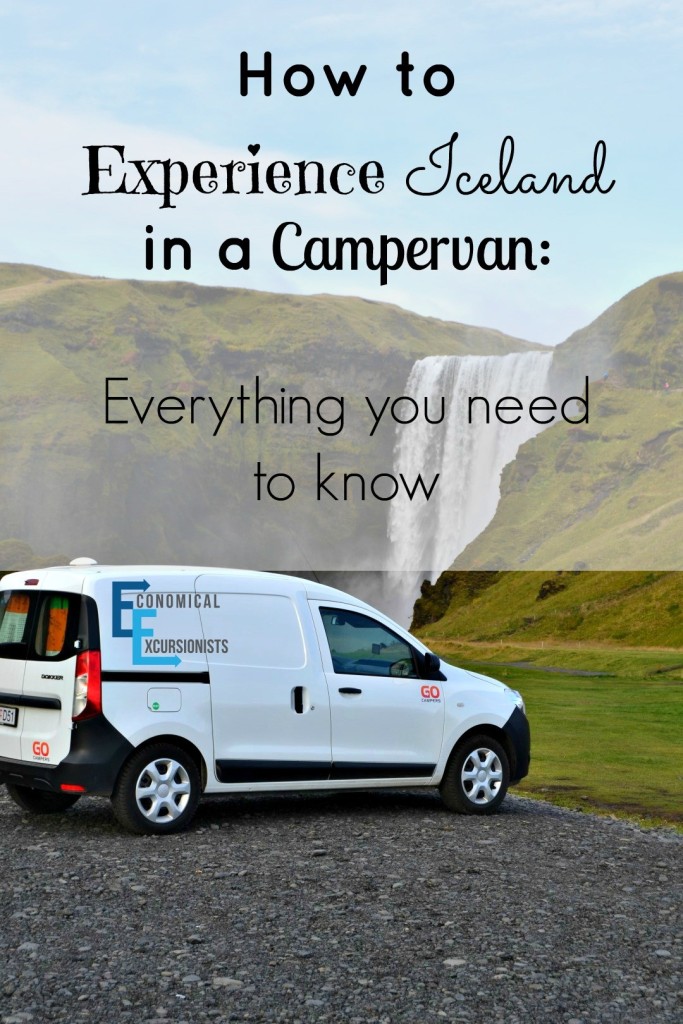 1) Cost Efficient:
While the initial price tag might seem staggering, if you consider that most hotels cost at least $100/night in Iceland, knowing that the campervan will not only be your mode of transportation but also your lodging, it actually isn't THAT mortifying.  There are countless campervan options available, but most of them have similar, basic vans that double as a bed and utilities to cook a simple meal.  This would help us save on lodging, transportation AND food!
2) Flexibility
There is so much to see and do along the popular Ring Road route.  Even with rough guides and itineraries, I was getting stressed out not knowing how long it would take to be at each location or how far apart the sites were.  I didn't want to feel rushed through amazing and beautiful spots just because we had to make it to a certain town for a reservation.  By using a campervan in Iceland, we were able to go completely at our own pace, see what we wanted to see each day, and stop anywhere we wanted for the night.  This took off a huge amount of stress and worry while planning.  I just had a list of where I wanted to go, where they were and we were able to just take everything as it came.
3) Stay Where You Want
Currently, you can park and stay anywhere that is not private property or that is not explicitly marked as "No Camping."  I can easily see this changing over time as more and more people come to tour Iceland, so it is a no brainer to say that if you choose this option, be respectful for future travelers!  Leave the land/area just as you found it: no trash, nothing left behind, etc.
This was so nice when we weren't sure what all we were going to be able to get in for the day.  Not knowing where we would end up after a day of site-seeing, it was great to just pull over whenever and wherever we wanted for the night!
(There are LOADS of campsites throughout Iceland as well.  If you prefer a place that you can grab a shower, possibly do some laundry and maybe even grab a bite to eat at, here is a full list of camp sites)
4) Get Away from the Tourists
Since you can stay almost anywhere, you can spend the night in some of the most remote and beautiful locations!  It can just be you, your camper and nature at it's finest.  This is particular useful when searching out the Northern Lights.  With no city lights obstructing the sky, you can get quite the light show!
Another perk was that we would park just minutes (or at) a popular sites that, during the day, would be swarming with tourists.  By staying AT the destination, we could wake up before the hoards came in and have the site all to ourselves!!!  This was particularly great at Jökulsárlón Glacial Lake and many of the popular waterfalls.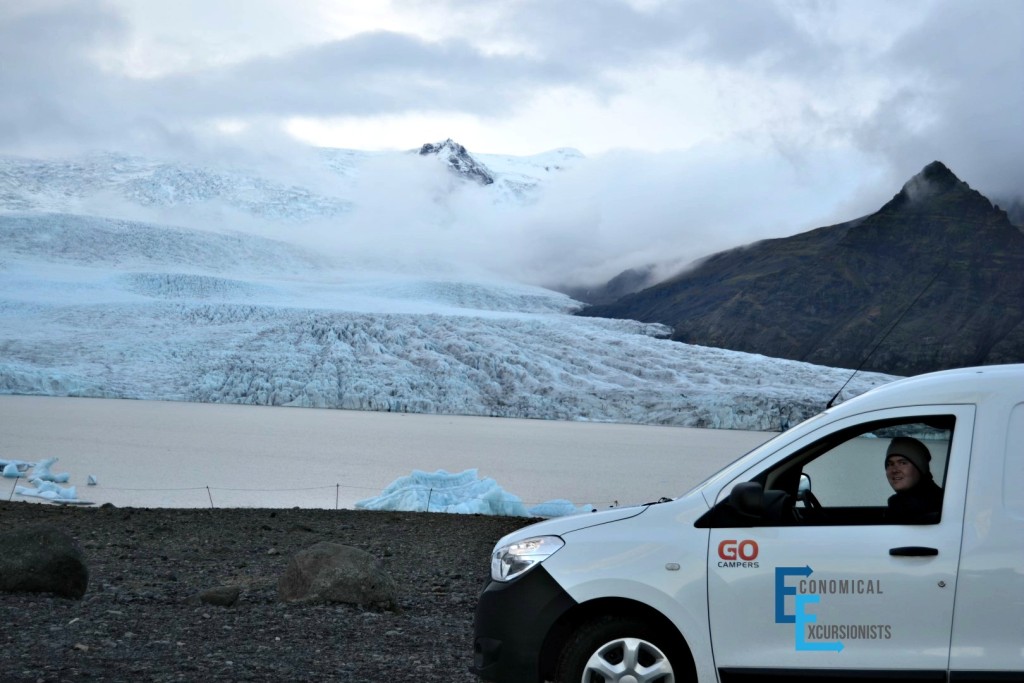 Choosing a Campervan in Iceland
Once you have decided to go the campervan/RV route, the next overwhelming decision you need to make is which company to go with, and there are no shortages of options!  Just a simple google search of "Campervans Iceland" will pull up a whole list of choices.  The truth is, almost all the companies have the same type and style of vehicles.  The difference is in price and what they have to offer.  Making a decision at this point will probably have more to do with what you want.  There were some options that had heaters and even wifi in the vehicle!  If these things are important, then that is fine.  For us, we found that the campers themselves were all about the same and we are all about budget and saving money!!! So, while Wifi sounded appealing, we are all about saving that mulla!
We ended up going with Go Campers, which was the cheapest, even with add-ons, at the time.
The van itself, that came with cutlery, pots and pans, cleaning supplies…and a frisbee started at only $683!  You can then choose extras to pay for, like sleeping bags, a grill and more.  It allows you to decide on your own budget and level of comfort, making it the perfect option for us budget travelers!
Some of the other companies I looked into and researched were:
Campervan Iceland
Happy Campers
KuKu Campers
However, with Go Campers, we were able to choose ONLY what we needed, and therefore pay for just the necessities alone.  This is the perfect choice for budget travelers who need a no-frills lodging!
—————————————————————————————————————————————–
Planning An Epic Icelandic Roadtrip?
Don't forget to research cheap things to do on TripAdvisor and book affordable Hotels at Booking.com
—————————————————————————————————————————————-
Campervan in Iceland Bare Necessities:
If wanting to save money, here are the add-ons that are probably an absolute must.  You can either bring some of these yourselves or pay per item
Sleeping bag (per person)
Gas canisters if planning on cooking yourself (can buy at the shop)
Cutlery/Pots/Pans (Included in just about any camper we looked into)
Camper Nice to Haves:
These items probably aren't a must, but depending on your budget can be really handy and nice to have
Grill: This was WAY faster than waiting forever for the water to boil in the freezing cold wind and rain! (you'll need to buy your own charcoal)
Converter/ Charger: This was really great to have because we had tablets to watch movies on at night and our off-line tablet to use as a GPS, which all needed daily charging.  If you like to camp, it's not a bad idea to just have a power inverter of your own.
GPS: You can easily use a map if you are just planning on seeing the Ring Road.  You can also download offline maps through google or use Map.Me, but having an actual GPS is quite handy as well.  We often had to rely on GPS Coordinates to find the exact locations, which we might have missed with just the paper map itself.
Cooler: If planning on doing a lot of your own meals, a cooler is great to have so that you can keep food for several meals.
What to Pack and Bring Yourself:
Flashlight/Lantern: We love our rechargeable camping lantern!
Trash bags
Food
Paper Towels
Toilet Paper
Baby wipes for quick hand washing, cutlery cleaning or if it's just been a few days since your last shower!
Electronics: We always have an electronics bag that we take when traveling that includes things like a backup, portable battery pack

 

for tablets, backup batteries for cameras, auxillery cord to plug in for music, extra camera SD cards, tablets for watching movies at night, etc.
Travel Pillow: they provide a small pillow, but I was so glad I packed our small, travel pillows to just just a little more comfort
Good Food to Eat While Camping
You can still eat really well while camping!  You can easily find grocery stores to pick up more supplies as needed as you go along as well.  Here are some of the foods that we found really easy to cook up, keep, clean up, etc
Breakfasts: 
Icelandic Skyr (yogurt) is out of this world!  It is a perfect breakfast option!
Cereal.  If you have a cooler for milk, cereal is a really easy option as well
Granola/Protein Bars: If you don't have a cooler, bars are a quick and portable choice
Lunches:
Sandwiches were our go-tos for lunch.  With a cooler, you can easily do deli meats and without one, PB&J is a no fail.  Add some fruit, like an apple and a side of chips and you've got yourself a meal!
Gas Station Hot Dogs: Don't ask me why, but Icelanders seem to just LOVE their hot dogs!  At any gas station, you can get a hot dog w/ all the fixings (all sorts of sauces, onions, bacon and more!)
Dinners:
Since you have a pot/ pan, you actually have many choices for dinner
Pasta: This is a go-to for most budget travelers!  Just make sure you have plenty of water on hand before stopping
Soup: We used instant packages of soup, which were just what we needed on a cold, blustery night!
Grill Food (hot dogs, sausages, steaks, etc): If you have a grill, this is a really fast and delicious way to cook up dinner!
Snacks:
If you are like me, you love a good snack on your road trip!
Cheese and Crackers
Fruit
Granola Bars
Chips
After coming home from our campervan in Iceland trip, I had so many people say in wonder, "How did you live, eat and sleep in a van for a week straight, there is no way I could have done that!"
I suppose the campervan option isn't for everyone.  However, if you like adventure, love to camp, don't need luxury hotels and like to save money, it is a great option!  Even for families, there are RV options and larger vans available to still make it an affordable, fun and memorable option.
I will say that in mid October, I'm not sure if I would have wanted to have done the camper option much later in the season.  It did get to freezing temperatures at night and while we were fine in the sleeping bags and a few layers of clothing, having to to use the toilet (aka, the gravel road outside of the van) in the middle of the night in the cold, blustery wind wasn't the most enjoyable moments of our trip!  However, if I can do it at 4.5 months pregnant in mid October, you probably can, too!
Read more of our articles on Iceland to help you have the best trip and experience possible:
Tips and Tricks: Everything you needed to know before heading to Iceland
Planning a Trip to Iceland: Valuable resources and website to take the stress out of research
Are you considering an Iceland Campervan trip?  Ask us your questions in the comments below!
Have you taken a campervan trip before?  What tips and tricks do you have for fellow travelers to make the most of their experience?
The following two tabs change content below.
Author and Creator
at
Economical Excursionists
Former teacher turned blogger turned mom turned full time travel addict, LeAnna has never been one to live life by the rules. Whether she is moving to a farm in Switzerland to learn to make cheese (Yes, CHEESE), jumping off a mountain to paraglide over Cinderella castles, or taking her baby all over the world with nothing but a backpack on their backs, LeAnna designs and defines her OWN life. LeAnna, her husband Andy, and kiddo, "Lil B" love to live a minimal lifestyle, not only for the "thrill" of pinching pennies but in order to save for traveling the world. Considering over 40 countries and 90+ cities have been explored, we'd say they are doing something right!
Latest posts by LeAnna Brown (see all)