[This site may contain affiliate links. We at EE thank you for supporting our site so that the mere pennies we make from these links can go towards maybe having enough money to buy a a pint of Guiness next time we are in Ireland]
Before Planning your Trip to Ireland Consider these Tips:
Ireland has the perfect combination of culture, natural beauty, city life and the most welcoming people to make traveling throughout the country one of the most enjoyable trips you might ever take.  However, with so much to do, it is often hard to sort it out and come up with the perfect itinerary.
Before you even begin to decide on your destinations, here are some Ireland tips to help give you an understanding of a few things to take note of while traveling in Ireland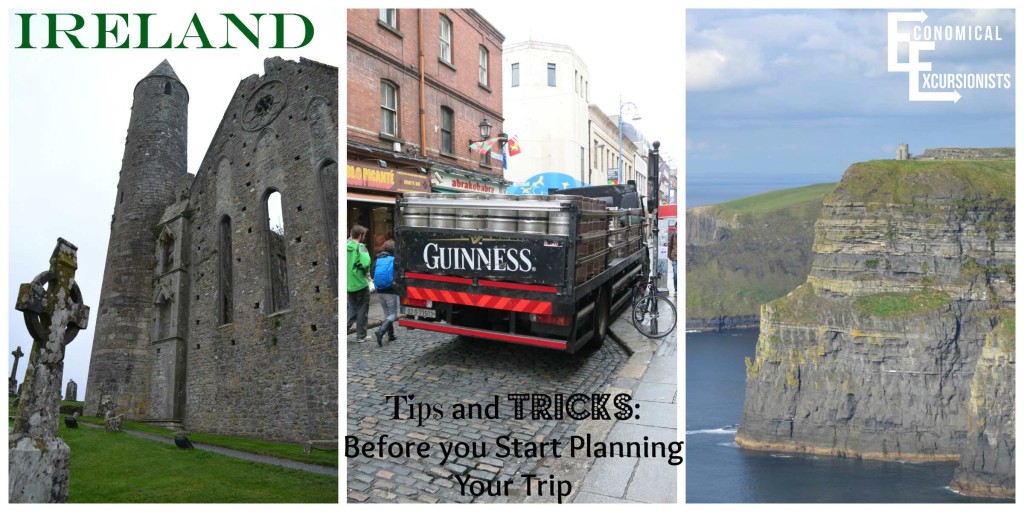 Driving:
When most people think about driving in Ireland, the stress and fear immediately overtakes them.  Is it true that it can take over double the amount of time to drive somewhere if you get stuck behind a herd of sheep?  Are the roads actually so small that barely one car can fit through them?  How many cars are returned with missing pieces from scraping against walls?  Is it terrifying driving on the "wrong" side of the road?
While most of these are legitimate concerns, they are nothing to keep you from driving in Ireland.  Spend a few minutes on some side streets getting used to the other side.  After a short period of time, you'll only rarely use the windshield wipers instead of the turn signal, and driving will become a cinch.
If you don't want to drive a manual car, be willing to pay extra and let the rental company know beforehand; most cars in Europe will be manual, not standard.
Take it slow.  The roads can become extremely narrow, so it is better to drive slowly and just enjoy your scenery than to zoom to your next destination without appreciating the beauty around you.
Do not let these fears stop you from driving in Ireland.  Renting a car is one of the best ways to see the country and the smaller villages that would be missed by flying or doing a tour bus.  GypsyWithADayJob really shows off some of the amazingly beautiful countryside here (with all it's nuances!)
Driving Logistics:
Insurance: Considering the amount of cars returned without mirrors due to a bump with a neighbor because of the small roads, most car rentals in Ireland will require you to pay a hefty insurance fee.  Most countries use the Collision Damage Waiver as part of their rental agreement for insurance.  However, Ireland is one of the few countries that does not.  To avoid this extra, expensive fee, check out the perks of your credit card.  Many cards actually offer fantastic car rental insurance policies already included.  All you have to do is get a letter from your credit card company to confirm your coverage and take it with you when you rent your car. (If this does apply to you, you may have to be very adamant as the rental companies would prefer for you to pay through them)
Driver's License: If you will be in Ireland for a short period of time, your current. valid and up-to-date driver's license will suffice.  While you are not required to have an International Driver's Licence in Ireland, it never hurts to have one when driving abroad.  Also, some companies still may ask for one; check with your car rental company prior to arriving to avoid any confusion and stress.
– At our time of travel, Payless Car Rental was by far the cheapest option for renting a small car.  For one full week, we paid only $115 (not including gas).
Time:
Before planning out your trip, consider the amount of time you will have in Ireland.  There is so much to do that most people try to pack everything in.  When I travel, I like to spend a few days in each location.  For Ireland, there was so much to do that most places we only spent about a day.  We didn't feel rushed, but I'm sure we could have easily spent more time in each town.  I also wanted to hit some of Northern Ireland, but looking at everything else we wanted to hit, I just knew it would have been too much for the time we had.
Plan accordingly and realistically.  Consider your transportation options as well when planning what towns to see or how you'll get there.  After all, you don't want to be spending more time sitting in a car or airport than enjoying what Ireland has to offer.
HeritageCard:
Depending on your length of stay, it may be worth looking into the HeritageCard.  Once you pay the upfront fee (see website for current prices: http://www.heritageireland.ie/en/Info/HeritageCards/) you can gain free entry to many of the popular sites in Ireland.  What is nice about this card is that you may even find yourself going to a few great sites that you may not have gone to if you had to pay, but could be worth it on a short stop with the card!
Where to Stay:
As with most cases, this will most likely be determined by your budget.  However, B&Bs in Ireland are extremely well known and for good reason.  The Irish people in general have been some of the most friendly we have met to date while traveling, so their hospitality in their own home comes naturally.  You are awakened each morning with a traditional Irish Breakfast (Eggs, bacon, tomatoes, sausage, black pudding, beans and more) to fuel you for the day and nothing beats having a "home" to come back to at the end of a full, busy day of site-seeing.
If traditional B&Bs are out of your budget, AirB&B is always a good choice to get a similar atmosphere, but probably minus the breakfast.
Packing:
No matter where you go, I always think you can travel light.  This may be somewhat more tough in Ireland since you may need to be prepared for all types of weather.  However, I was still able to manage both warm weather clothing with fall-type temperatures and of course, plenty of rain gear!  If you don't have a good rain coat, now may be the time to get one, or at least a good poncho!
Beer:
There is absolutely no shortage of beers while in Ireland.  Of course, almost everyone will go straight for the Guinness.  However, you are definitely going to want to try the other "not so famous" brews.  Our favorite, even over the classic Guinness?  Murphy's.  If you are a lover of ciders as well, you won't be disappointed.  Just make sure you give everything an equal opportunity for taste testing!
Where to Stay in Ireland
Read reviews to find the perfect place to stay in Ireland here.
Compare to find the current cheapest accommodation in Ireland.
Stay at your own personal apartment or home while in Ireland.
A trip to Ireland can be tough to plan out due to all your options.  What tips would you give to fellow travelers wanting to head to the Green Isle?
The following two tabs change content below.
Author and Creator
at
Economical Excursionists
Former teacher turned blogger turned mom turned full time travel addict, LeAnna has never been one to live life by the rules. Whether she is moving to a farm in Switzerland to learn to make cheese (Yes, CHEESE), jumping off a mountain to paraglide over Cinderella castles, or taking her baby all over the world with nothing but a backpack on their backs, LeAnna designs and defines her OWN life. LeAnna, her husband Andy, and kiddo, "Lil B" love to live a minimal lifestyle, not only for the "thrill" of pinching pennies but in order to save for traveling the world. Considering over 40 countries and 90+ cities have been explored, we'd say they are doing something right!
Latest posts by LeAnna Brown (see all)