It is a sad reality of history that groups of people feel the need to play God and attempt to erase entire ethnicities and races.  In all of our history books, it isn't hard to find chapters on the German Holocaust and in a good book, you may even find short sections on the Armenian or Holodomor Genocides.
But there have been countless other genocides, even in more recent times than the Holocaust that it seems people try to either turn a blind eye towards the atrocities or even try to cover them up.  Rwanda and even ISIS in Iraq are all sad reminders that while the globe vowed "Never again" that we as world are doing a poor job of making those words a reality, even today.
During the few days that we had in Siem Reap, our guide started to give us a few details and glimpses into the genocide that plagued the country only a mere 30 years ago.
(Warning: Some Graphic Images are Displayed in Post)
S21
Some know it as the S21, others as Tual Sleng but the end result is the same: a school, a place that should be a model for innocence, laughter and fun was turned into a prison for anyone suspected of conspiring against the Pol Pot regime.
Before entering, a sign appropriately says "No smiling or laughing allowed" which is fitting for a place that held brutal tortures and crimes against humanity before sending the prisoners off to "The Killing Fields" only 17 kilometers out of town.
In a matter of days, the entire bustling city of Phnom Penh was cleared, a tactic in the Pol Pot regime to convince the people to live a rural life instead of urban.  One of the only inhabited places that remained was the school, now turned to prison.
Today, barbed wires still hung over balconies and ringed a large cement wall, a clear reminder that this was no longer a school but a place of torture.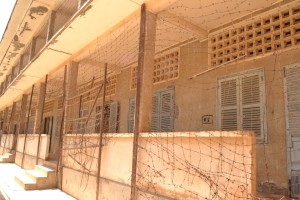 Inside, we could peer into the countless faces of prisoners and victims of the Pol Pot regime.  After all, each prisoner was well documented, to be sure they killed anyone suspected of tyranny against the regime.  Looking into the eyes of victims in the photos, our guide said, while nearly choking up, that despite coming through every day, it still pains him to see the looks of the people in the pictures.  And it was clear to see why.  It was almost as if you were able to gaze into their eyes.  The spectrum of emotions pouring out of their souls was heart wrenching.  In one photo, the hate and despise for the person on the other side of the camera was so fiery that you could almost imagine them getting ready to spit into the lens.  I had to wonder if these were the brave people that fought back.  Others had complete fear overtake them.  They must have heard the rumors of what was happening, had loved ones that they could no longer protect or just simply knew their fate.  Some had a wide grin on their face, completely oblivious to what would face them in the upcoming days or months.  For others, the despair and complete loss of hope could not be mistaken.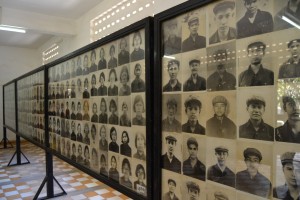 As we walked the grounds and halls of the prison, looking at pictures of the changing Cambodia people and country and reading stories of the atrocities, the same eerie, sickening feeling that I've gotten walking in the Concentration camps of Germany overcame me.  The same heavy, gut feeling that makes you question humanity; not only those that would do something as inconceivable as mass murder, but those (countries) that would stand idly by at the same time.
In other rooms, there were paintings from survivors that depicted the torture methods employed by the guards, which were nothing short of horrifying and brutal.  A particular image that is seared in my mind is of a woman topless, tied to a board, her nipples cut off and with what remained; a scorpion was latched on.  Just a glimpse into the inhumane ways of trying to pry information from people who, they believed, were rebels or contained information on those who were. (Which later, was proven to show that many were not rebels, but, like so many other torture instances, the victims finally gave up any information just for the hope of stopping the torture).  However, the guide solemnly pointed out that, "No one could escape, except for in death of course."  It seemed true as we morbidly glanced at images of men being dunked upside down in "toilet water" until death from drowning overcame them.
In one corner of the schoolyard, one of the seven survivors at the time of liberation, author and painter, Ben Muoi, sat hunched over in a green plastic chair.  In front of him, varying piles of books; his own that he had documented on his time in the S21.
With no English, he pointed down to a picture of seven young men, particularly at one man, who could not be more than 25 at the time and back to him.  He feverishly pointed down and back to him.  He then shifted his attention to what looked to be mug shot of a young woman.  It was the same pictures from those we saw at the beginning; the ones that the Pol Pot took of all prisoners for documentation.  He was able to say, "Wife, wife." and with a pained look in his eyes, slashed his hands over his throat.  Right here, in front of me was a man that had seen more fear, hatred and sorrow in his life than I could ever imagine and I continued to wonder how these things could possibly happen.
Our hearts weighed heavy as we left the schoolyard to go to an equally evil place, known to the world as, "The Killing Fields."
The Killing Fields
The 17 kilometer drive out of Phnom Penh into the countryside could have been any other Tuk Tuk drive through the chaotic, dusty streets of Cambodia (which by the way, here's an in depth guide to transportation in Phnom Penh).  However, we were heading to a destination that should never be tourist destination.  We were on our way to "The Killing Fields."
The Pol Pot Regime of Cambodia in the 1970s started a mass genocide against anyone that wasn't in favor of their government.  This included anyone from past governments, anyone with an education, anyone not of Khmer (Cambodian) descent and more.  Basically, if you were not willing to be a blind follower peasant farmer, you were suspect.  Sadly, almost all that were suspect, were murdered.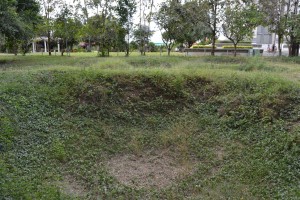 The Killing Fields are mass graves outside the city of Phnom Penh. Today, they may not look like more than hollow pits now covered with various vegetation growth with beautiful butterflies fluttering around.  However, the signs that warned you to "Not step on bones and teeth" was a jarring reminder of what kind of land you are on.  At first, I thought that the signs were put out just in case something was discovered, but it didn't take long to see how fresh of a wound these graves still are in Cambodia's history.  A blue piece of cloth, a small thread could be seen poking out of the ground; something that could have easily been dropped from a fellow tourist.  But, look closely, and it wasn't uncommon to see a bone, a tooth or other human remains not far from the scraps; a dark reminder of the cruelty and inhumane circumstances that happened at this very spot only 30 years ago.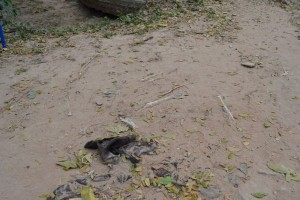 Living in Germany for the past four years, I have been able to see many historical sites of World War II, including many places of Holocaust atrocities.  At many of the memorials, you read about people claiming, "Never again" will the world let a mass genocide happen.
And yet, it did….
As we walked around the fields, there were various mass graves for different victims of the "Hitler of Cambodia."  Some were for women and children only, others for political prisoners.  Despite the classification of each grave, one thing remained horribly apparent; each person was a victim of a heinous crime that millions of people never even knew was happening.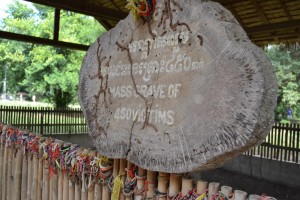 The following two tabs change content below.
Author and Creator
at
Economical Excursionists
Former teacher turned blogger turned mom turned full time travel addict, LeAnna has never been one to live life by the rules. Whether she is moving to a farm in Switzerland to learn to make cheese (Yes, CHEESE), jumping off a mountain to paraglide over Cinderella castles, or taking her baby all over the world with nothing but a backpack on their backs, LeAnna designs and defines her OWN life. LeAnna, her husband Andy, and kiddo, "Lil B" love to live a minimal lifestyle, not only for the "thrill" of pinching pennies but in order to save for traveling the world. Considering over 40 countries and 90+ cities have been explored, we'd say they are doing something right!
Latest posts by LeAnna Brown (see all)