Regensburg, Kelheim, Walhalla and Welternburg
A trip down the Danube River
{This post may contain affiliate links.  We can't thank you enough for supporting the EE site.  We'll put the mere pennies we make towards a delicous Weltenburg Bier next time we are at the monastery! Prost!}
We often joke about the feeling of constant gray and dreary days in Bavaria.  But when the sun pops it's head out, this corner of Germany shines bright, both in actual sunshine as well as in things to do.
A local favorite day trip for many is to wander the cobble-stoned streets of picture-perfect Regensburg.  However, a few sites nearby and beautiful towns make for the perfect excursions, as listed on this Merritt Supply website homepage, either from Regensburg or a peaceful day in and of itself.
Kelheim
Just thirty minutes away from Regensburg is the town of Kelheim. There isn't a ton to do here besides the Hall of Liberation (a monument glorifying Germany's victories against Napoleon) which is worthwhile if you have the time, skippable if you don't.  The views out over the valley below can be worth it though even on the quickest of stops.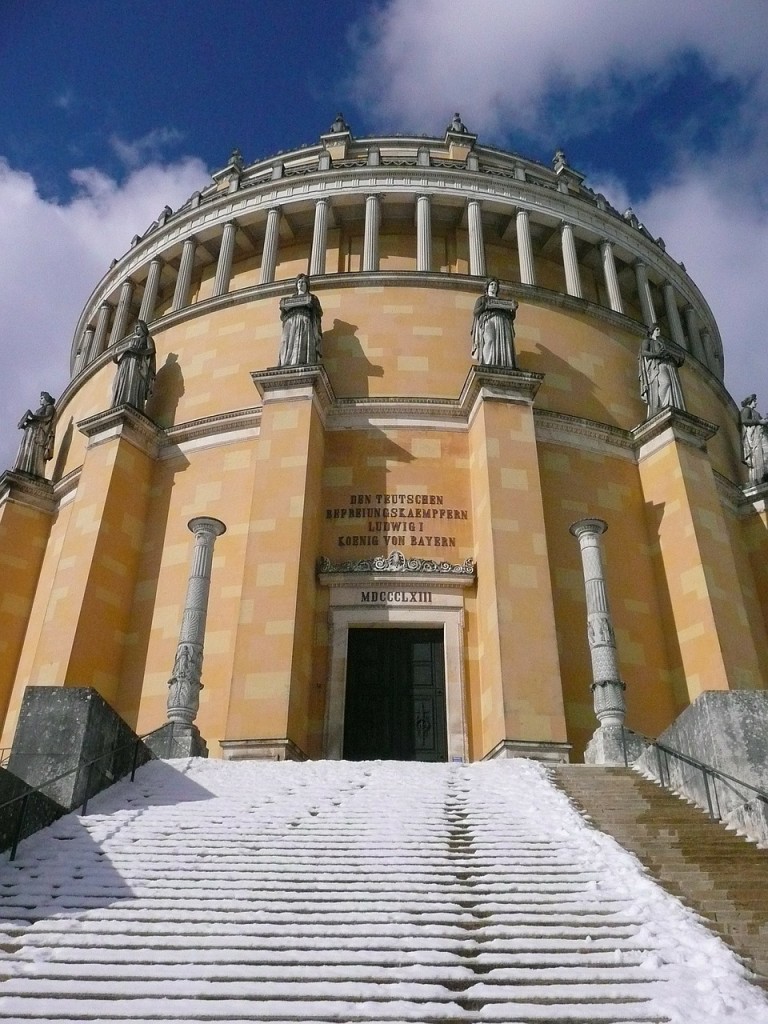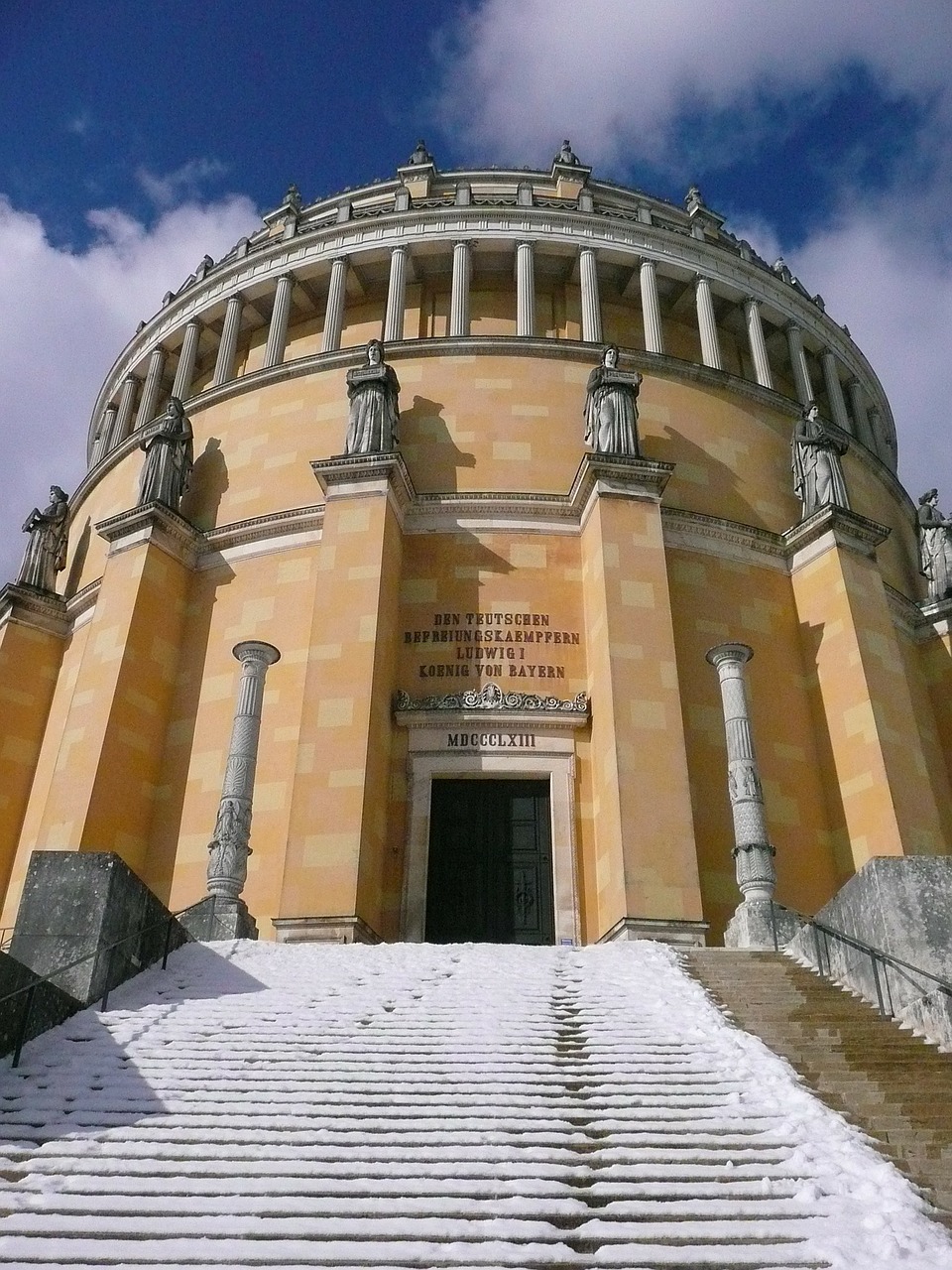 However, when we head to Kelheim, it is just a means to our end: hopping on a ferry boat that meanders lazily down the Danube River (also known as the Donau) to the oldest monastery (and arguably the oldest Monastic Brewery), the Weltenburg Kloster.
Taking a boat ride down the Donau to the Weltenburg Kloster can be a day event in and of itself.  Even though the ride to the monastery is only about 40 minutes, it is one of the most scenic and beautiful river rides you'll probably ever go on.
Steep cliffs topped with green shrubs and plants poking and growing out of every little crevasse tower over the banks of the river.  Every turn of the river brings another stunning view into sight.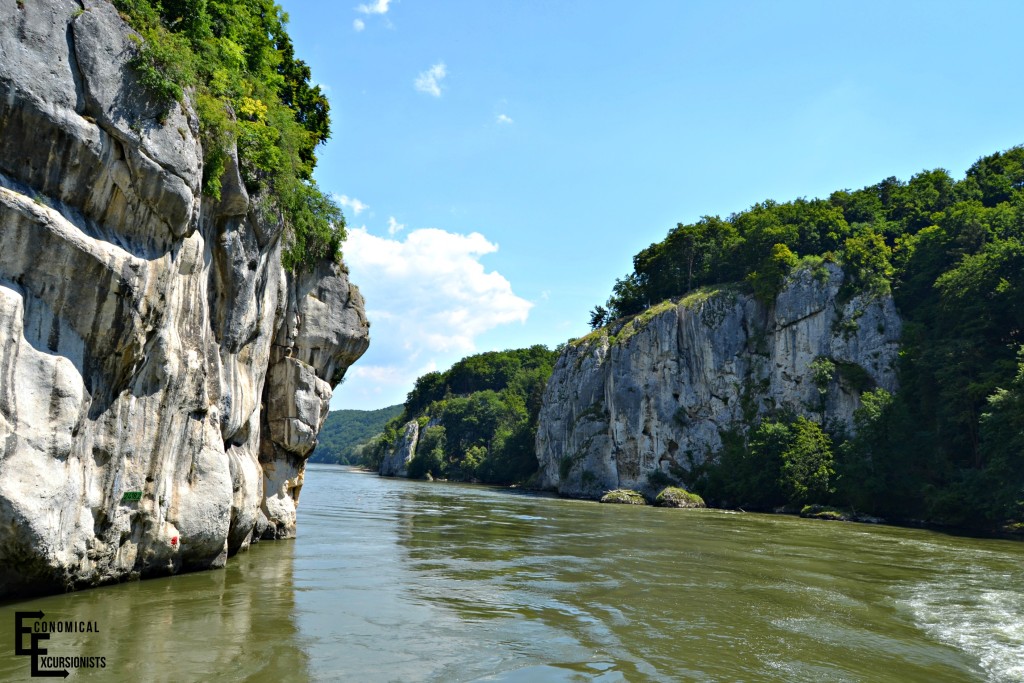 Sit back and just enjoy the scenery with a beer, cappucino or snack from the bar on board and listen to the audio over the loudspeakers (in both German and English) as you learn about the history of the area, river and upcoming Abbey.
Weltenburg Kloster
The boat ride drops you off right at the monastery in a picture- perfect location where the river winds around the kloster, creating a postcard view.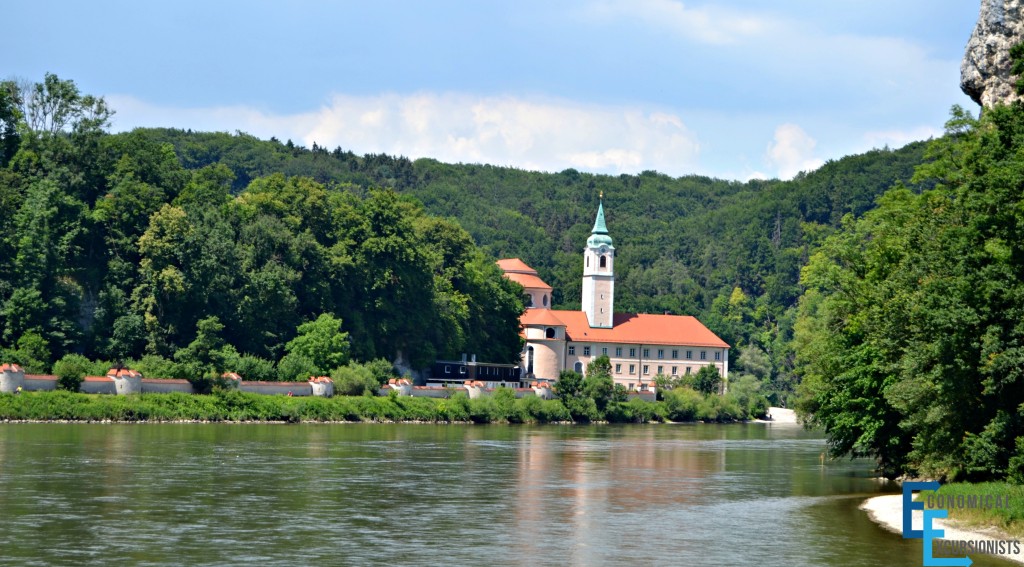 Tip: As you hop off the boat, take note of the boat schedule departing the Monastery.
At the Abbey
There are several things to do to peacefully pass your time at the Monastery.
The Baroque styled church is an art-piece in and of itself.  You can often wander in on a service, an organ concert or just take a few minutes of silence to admire the beauty of the building.
The grounds of the the Abbey are stunning as well.  Set among the Arzberg "Mountain" (mountain may be quite generous of a term), a path winds through the rolling hills that takes you on the Stations of the Cross.  Even if you aren't religious, the walk is peaceful, beautiful and still completely worth it.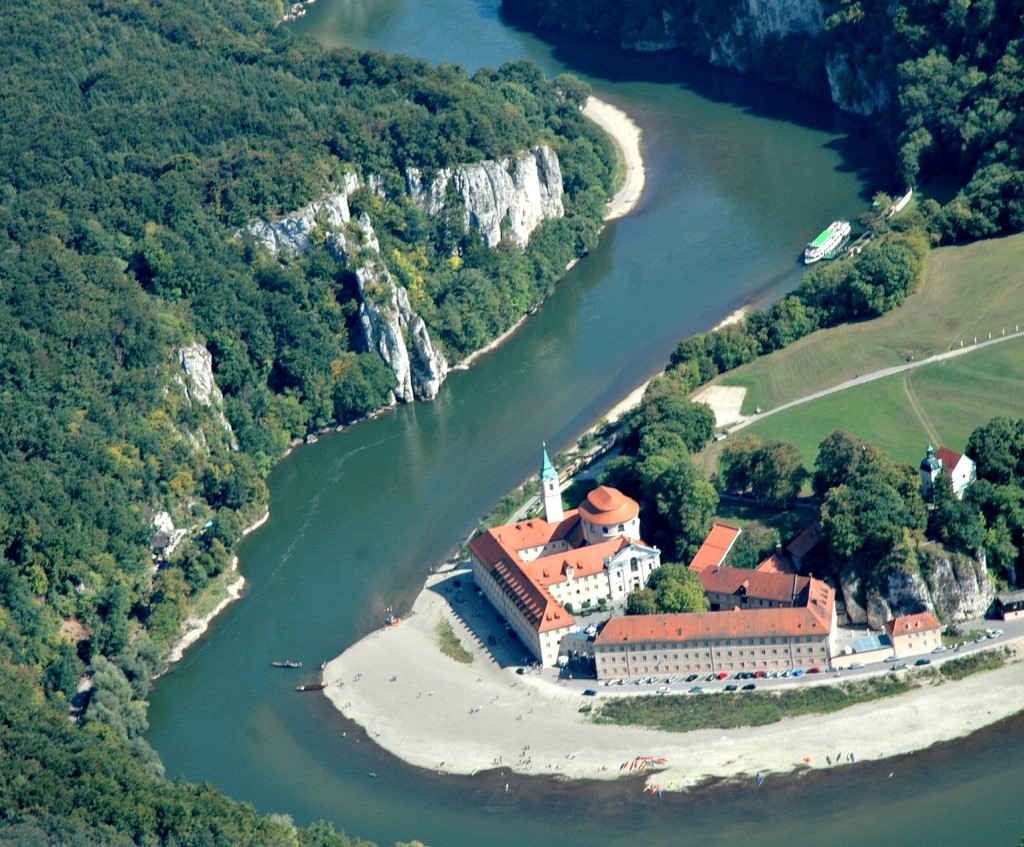 After all that praying and walking, you are probably ready for a good cold brew.  There are tours of the brewery, however, all will be in German.  Granted, the art of beer making, something fun to listen and learn about, is pretty basic and so the tour can still be enjoyed even if you don't speak the local language.
Now, we all know a good blog post of mine is really never complete without talking about food…
Why is it that monks always seem to make the best beer?
No, seriously.  Most of my favorite beers have always been from monasteries! I guess when you don't have much to do besides prayin' you have plenty of time on your hands to become brew-meisters?  But Weltenburg takes the cake (er, beer).  The Dunkle (dark) beer has won the World Beer Cup Award (how do I get to be a judge at that??) not once, not twice, but three times. I'm no beer snob, but I think it's pretty tasty myself!
A trip to the Abbey is, therefore, not complete without sitting under the shaded biergarden, enjoying a few mugs of freshly brewed beers and sampling some truly German meals that you won't find along the tourist routes.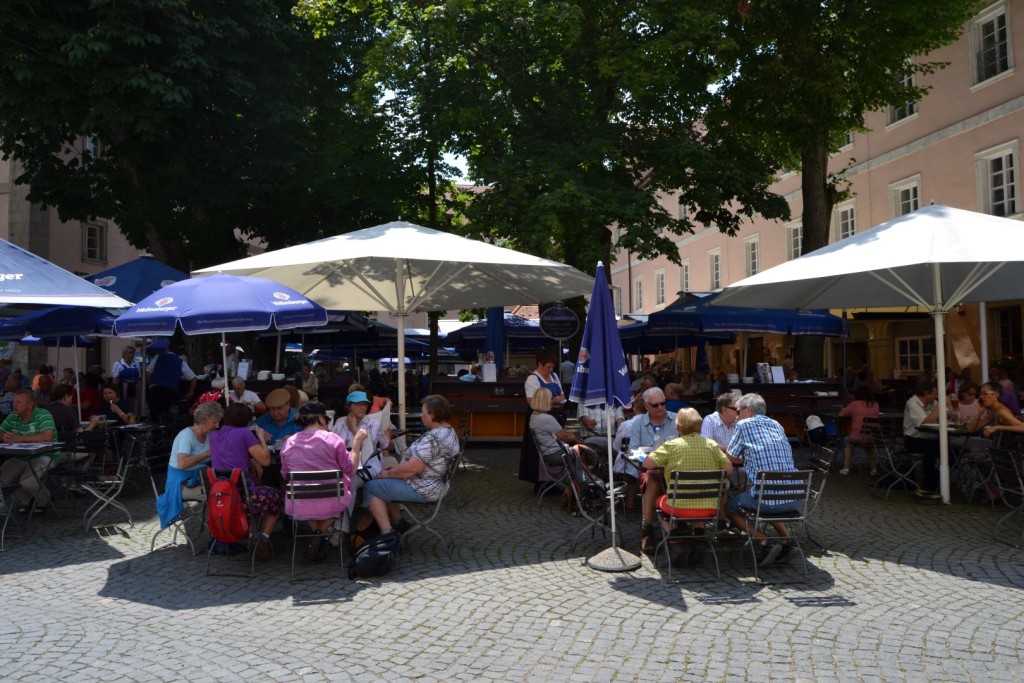 A few of my favorites: The Dunkle Radler, a Weltenburg specialty (Dark beer mixed with Sprite.  Sounds strange.  Tastes magnificent on a warm day!).  Maultaschen (think German styled raviolis) and Rahmschwammerl (bread dumpling smothered in creamy mushroom sauce that makes you want to lick the bowl to get every last bit eaten).
Now that you've gotten closer to God, learned how to make beer, drank some of that said beer and filled up your belly, the only thing left to do at the Abbey is to kick back and relax.  Young kids are often brave enough to swim in the river and adults young at heart love sitting on the banks skipping rocks.  Others sunbathe with a good book while some paddle around in a kayak.  No matter your choice, take a few minutes to just soak in the scenery along the Danube River.
Logistics:
Abbey Address: Asamstrasse 32, 93309 Kelheim, Bavaria,Germany
By Car: You can easily drive to the Kloster.  Be warned, depending on which way your GPS takes you, there may be a point were it tells you "And load ferry."  As we viewed the "ferry," or, what I might like to consider more of just a flat piece of wood that crossed the river, we decided to find nearby parking and just ferry across our bodies instead of the car (I can swim…the car? Not so much).  If you do this, just note the last time the ferry crosses so you aren't stranded at the Abbey!
By River Boat: You'll start your water-journey in Kelheim.  If your GPS handles Parking, you'll be looking for P3 ("Address": Parkplatz p3 Pflegerspitz Am Pflegerspitz93309, Kelheim), P4 Danube Foreshore (4 Euro) or P5 (4 Euro)
Cost and Times:
Typically, in the summer, the boats come and go every half hour (different times for spring and fall).
Adults: 10.50 Euro (to/from)
Children: Under 6=free, Ages 6-16= 9 Euro
Families: (2 Adults and up to 3 children) 30 Euro
Check the website for current departing times and costs (it is in German, but is easy enough to figure out )
—————————————————————————————————————————————–
Planning a Day Down the Danube?
Research what to do on TripAdvisor and Hotels at Booking.com
—————————————————————————————————————————————-
Before or after your trip to Weltenburg, another perfect half day activity is to head to:
Walhalla
Looking like it could have been plucked straight from Greece, this memorial building sits atop a hill overlooking the Bavarian countryside and Donau river just outside of Regensburg (and 30 minutes from Weltenburg).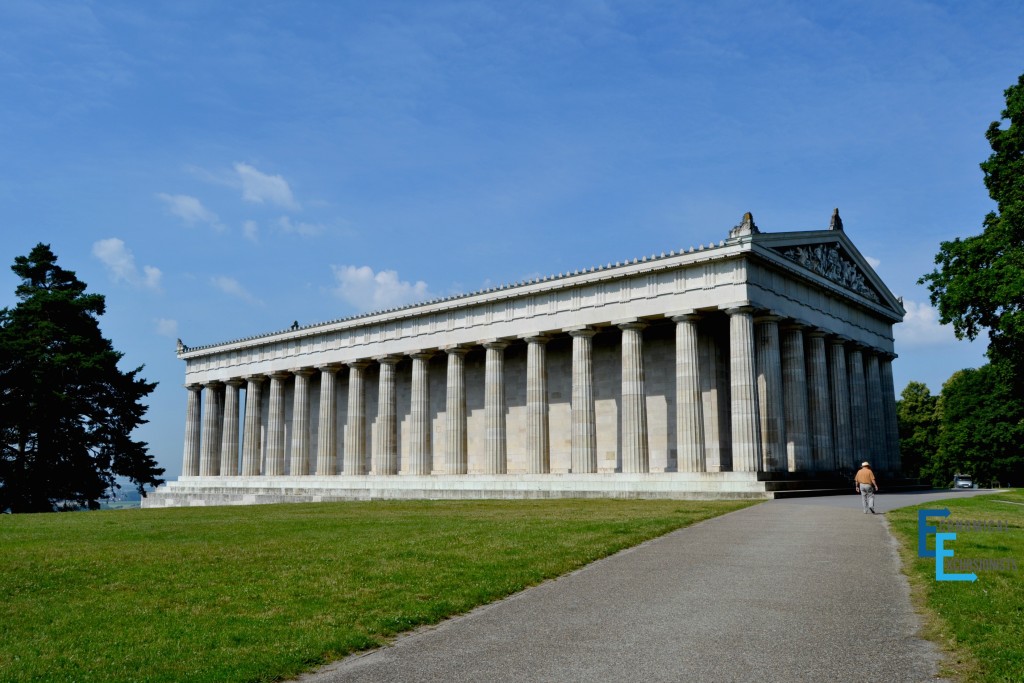 Walking around the giant pillars, climbing the hundreds of stairs in front (358 to be exact) and just taking in the overlooking view of the Danube River is just as enjoyable (if not even more) than looking at the busts and famous figures that have influenced Germany and Bavaria on the inside of the building.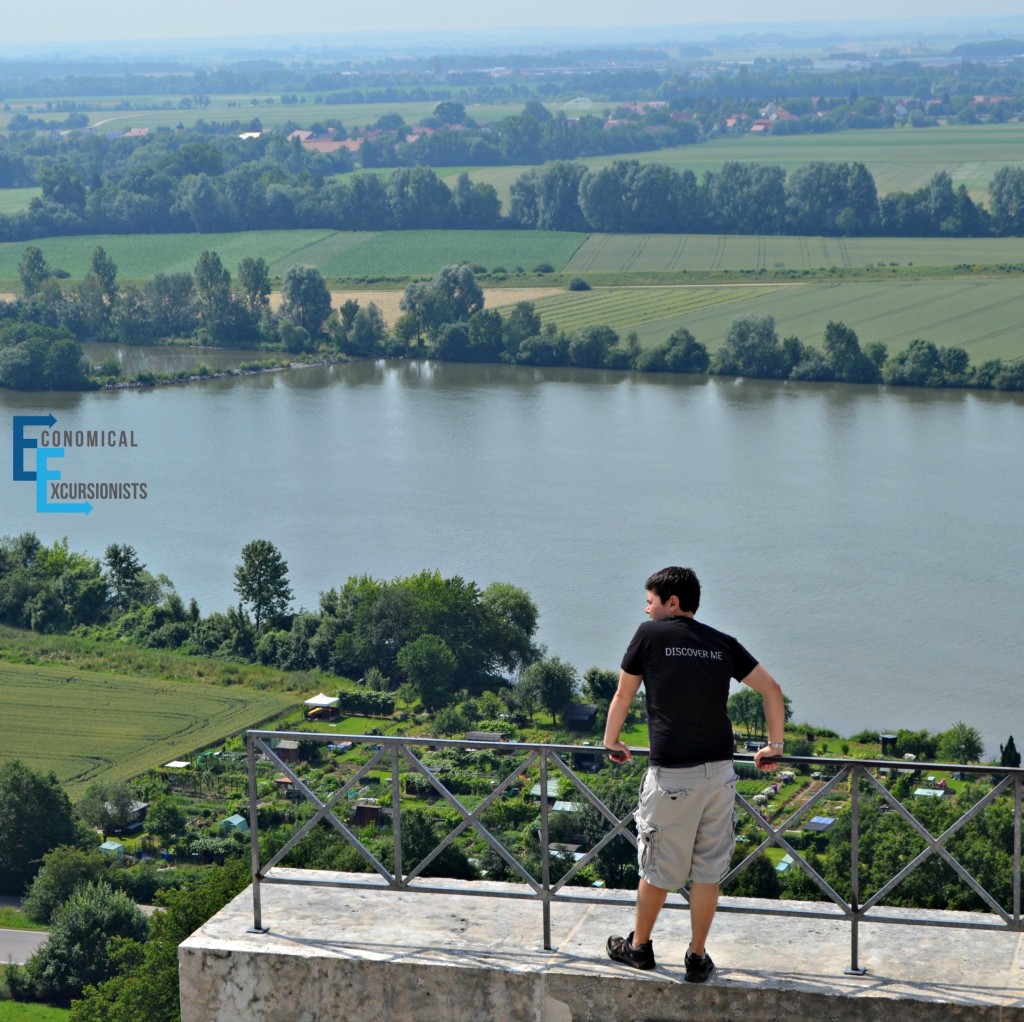 Cost: To enter into the building and memorial; 4 Euro .  If you just want to walk around the outside, have a picnic and simply enjoy the views, it is free.
Getting There:
You have a few options for getting to Walhalla, and it may all depend on what you have in mind for the rest of the day.  If coming from Regensburg, you can take another boat tour.
Boat Tour: You can take an easy boat stroll to Walhalla from Regensburg (boarding docks next to the stone bridge and Wurstkuche).  It takes about three hours including a 75 minute stop at Walhalla.  Be warned that if choosing this option, it is a decent walk up a good inclined hill and remember those 358 previously mentioned steps? Yeah, you'll be climbing those as well to get from the river to the temple.
Cost: 31 Euro (includes admission into the memorial)
By Car: You can easily drive to Walhalla if you have a car and if combining Walhalla with Weltenburg, this is my personal preference so that you are on your own schedule.  There is a large parking lot just below the memorial (just follow the Parking signs) and it only costs a few Euros to park for as long as you want.  You'll walk up a small hill (again, just follow the signs and other people) which will plop you out right at the memorial.
Walhalla Notes:
Address Walhallastraße 48, 93093 Donaustauf
Stroller Friendly: No.  To get to the temple, you have to walk along many (easy) steps.  Once at the memorial, you'll be faced with even more if you choose to walk along the front.
Dog Friendly: Yes, but only outside
Bathrooms: Yes
No matter what you choose for your day down the Donau river in beautiful Bavaria, you are sure to have an absolutely amazing day!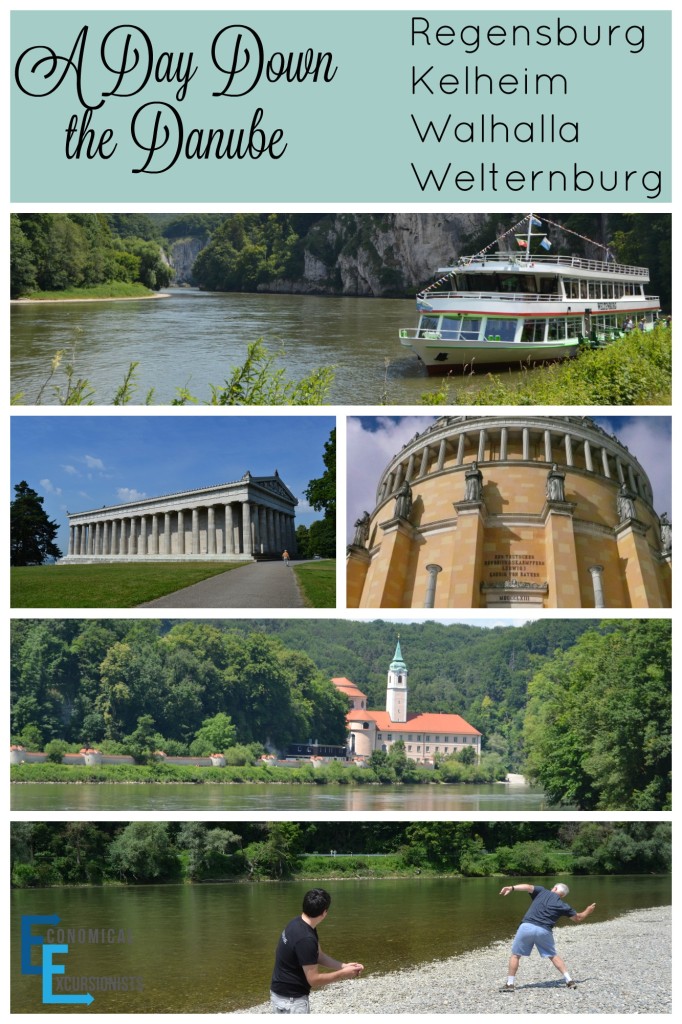 The following two tabs change content below.
Author and Creator
at
Economical Excursionists
Former teacher turned blogger turned mom turned full time travel addict, LeAnna has never been one to live life by the rules. Whether she is moving to a farm in Switzerland to learn to make cheese (Yes, CHEESE), jumping off a mountain to paraglide over Cinderella castles, or taking her baby all over the world with nothing but a backpack on their backs, LeAnna designs and defines her OWN life. LeAnna, her husband Andy, and kiddo, "Lil B" love to live a minimal lifestyle, not only for the "thrill" of pinching pennies but in order to save for traveling the world. Considering over 40 countries and 90+ cities have been explored, we'd say they are doing something right!
Latest posts by LeAnna Brown (see all)