Worpswede
I first heard of Worpswede when I visited the Paula Modersohn-Becker Museum on Böttcherstraße in Bremen (where I live these days). I'm a bit of a fan of French Expressionist art (Van Gogh, Pissarro etc.)  and in that museum I discovered that there had been an important circle of German Expressionists based only 20km away.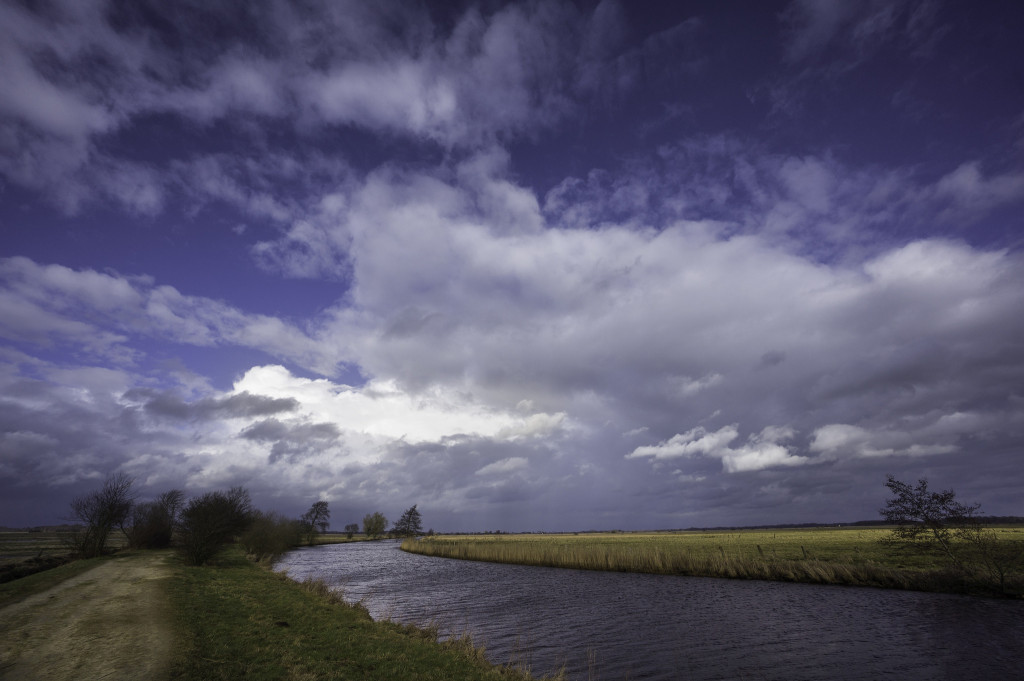 I was also impressed that the most famous member of the group was a woman (not so common in artistic circles), and that she painted tender portraits and colourful scenes that really brought the world of the early twentieth century to life. I wanted to go to Worpswede to find out more.
So, one Sunday my husband and I cycled on cycle paths between the flat fields of Teufelsmoor (Devil's moor) to discover this artistic hot-spot for ourselves.
How it all began
Worpswede started off as a small settlement of turf diggers who made their living in the boggy, low-lying land beyond Bremen. No matter how you get here you'll see a landscape of flat agricultural land punctuated by narrow canals and tree-lined avenues. Some farms still boast traditional low pitched-roof buildings made of wood-latticed brick. On a fine day the views stretch to the horizon and the light is amazing.
Worpswede didn't become a haven for artists until the 19th century, and only then by accident. It was just another little village on the moors outside Bremen until Mimi Stolte, daughter of a local shopkeeper, met the artist Fritz Mackensen, on a visit to Düsseldorf in 1894. She invited the struggling painter to holiday with her family and he was captivated by his new friend and the beauty of the village.
Within 5 years Mimi and Fritz had married and several artist friends also came to work with them in Worpswede. Hans am Ende, Otto Modersohn, Fritz Overbeck, Carl Vinnen, Heinrich Vogeler and later Paula Becker (who married Otto Modersohn) moved in. Famous writers and poets such as Thomas Mann, Gerhard Hauptmann and Rainer Maria Rilke also came to stay here.
What can I see today?
When you get to Worpswede you'll find a village clustered around the central Bergstraße and Lindenstraße. Next to the Große Kunstschau, a large central car park that indicates quite how many day-trippers come from Bremen, Hamburg and further afield to explore. At weekends the main streets can be quite busy with coach tours, so arrive early to beat the crowds.
Worpswede's artists have made a lasting impression on the former turf-cutter's village. Today many of the buildings you'll see as you wander around its leafy avenues were designed and built by them, combining modern architectural techniques with more traditional north German building materials. Basically, the old part of the village is an extraordinary open air museum that you can explore at your own pace.
Here are some suggestions of places to visit:
Heinrich Vogeler Museum
Heinrich Vogeler's house on Ostendorfer Straße, Barkhoff, was once the centre of the artistic scene in Worpswede. Today it's home to the Heinrich Vogeler Museum where you can discover more about the Worpswede group's Expressionist art and architecture.
Worpswede Railway Station and the 'Haus im Schluh'
Vogeler designed the pretty Worpswede railway station, which opened in 1910 and is now an atmospheric restaurant. His ex-wife Martha constructed the 'Haus im Schluh' on which is still owned by the family and now contains a museum, a weaving mill and boarding house, as well as putting on exhibitions and concerts.
The Church of Zion
The quiet Lutheran church The Church of Zion, off Findorffstraße, is the final resting place of 80 known painters, authors, artists and musicians, including Fritz Mackensen and Paula Modersohn-Becker.
But the church also gives a surprising insight into the personalities of the artists themselves. Inside you'll find heads of cherubim made by Rilke's future wife Clara Westhoff and floral ornaments carved by Paula Modersohn-Becker. Rather than being a lasting symbol of their Christian faith, the ornaments were made by the young women as penance after they were caught ringing the church's bells for fun. Clearly they were aiming to shake things up a bit!
The Lower Saxony Stone
The fame of Mackensen, Vogeler and the Modersohns meant that a new generation of artists, designers and craftsmen also settled in Worpswede. Of these, the artist Bernhard Hoetger probably left the biggest architectural legacy. After the devastating Great War, Hoetger built the huge and imposing 'Lower Saxony Stone', a memorial which can be found on Auf der Heidewande.
Große Kunstschau
Another of Hoetger's stunning architectural masterpieces, the Große Kunstschau is home to the most famous Expressionist paintings of Heinrich Vogeler, Otto Modersohn, Paula Modersohn-Becker, Hans am Ende, Fritz Overbeck, Fritz Mackensen and Carl Vinnen. Here you can see the full achievement of local artists and see what attracted them to Worpswede in the first place. There are also temporary exhibitions of current and contemporary art.
The former home of Otto Modersohn and Paula Modersohn-Becker, this house is now also a beautiful museum that is home to paintings collected by Bernhard Kaufmann, a local art collector. As well as 'Old Worpswede Masterpieces', the museum showcases modern and contemporary art from the region.
Worpsweder Kunsthalle
If haven't had enough of museums, or fancy taking some art home with you, take a look at the Worpsweder Kunsthalle. It started as an exhibition space in 1919 and has since been rebuilt as a gallery and art dealer's office.
The Käseglocke
This sweet little building was built in 1926 by the writer Edwin Könemann, following the design of Bruno Taut. The nickname given by locals, 'the cheese cover', has stuck and today the building has been renovated for visitors and includes an exhibition on Könemann's life and furniture made by other famous Worpswede artists.
Galerie Altes Rathaus and Galerie art99
These two galleries offer exhibitions of art created by today's Worpswede artist community.
What do I do when I'm all-museumed-out?
Worpswede is perfect for mooching, taking tea/coffee and cake-breaks and watching the world go by. There are loads of pretty cafés and contemporary restaurants that will cater to your cake-eating needs. Often they have their own little art exhibitions and souvenir shops.
The following are a representative selection –  click the links to get up-to-date information on menus and prices.
Kaffee Worpswede
Designed by Bernhard Hoetger, this restaurant attached the the Große Kunstschau gives visitors the opportunity to eat delicious food in an original piece of Worpwede art.
Café Scheibner
Located on Bergstraße, this central café offers breakfasts, homemade cake, snacks, light bites, tea and coffee for every weary tourist. If you'd like to stick around, there is a holiday home attached, which accommodates 2-4 people starting at €85pppn in high season.
Café Hans am Ende
Attached to the classy Hotel Buchenhof, this café on Ostendorfer Straße offers homemade cakes and light bites on its pretty summer terrace in the afternoons. For further information, call 04792-93390 or email [email protected]
Moma-Cafehaus
The perfect choice for those who prefer vegetarian, gluten-free, lactose-free organic food options, the moma-cafehaus on Straßentor offers breakfast, light bites, cakes, ice-cream and tea and coffee.
Café Schulken
Centrally-located, this café offers delicious homemade cakes, specialist teas and coffees and a summer terrace with a view of the Bergstraße. For further information, call 04792-1209.
What if I want to stick around?
Although my husband and I live close enough to make a day trip of it, there accommodation options for every budget in Worpswede. Here are some of the best I know of (click the links for up to date info):
Worpswede Jugendherberge
Located on Hammeweg, Worpswede's Youth Hostel offers affordable accommodation for single travellers, couples, families, groups and school classes, with bed and breakfast starting at €26.50 per person per night. For more details, call +49 4792 1360, or email Jan-Walter Feldmann at [email protected].
This family-run guest house can be found on Hembergstraße, and welcomes children, pets and motorbike tourers. Single rooms start from €45 to 60, and doubles go from €70 to €95. A reduction is available for 5 nights + stay. For more details, call the Familie Schwake on +49 (0)4792-93250.
Right in the centre of town, the Hotel Village on Bergstraße offers comfortable rooms starting at €76 per night for a standard single, and €136 for a double suite. Prices include taxes and a breakfast buffet. For further details, call 04792 – 935 00 or email [email protected].
This former popcorn factory has been converted into 4 very comfortable holiday apartments, with kitchen, sitting room and beautiful views overlooking the countryside towards Bremen. The apartments range between €55-95 per person per night depending on the apartment selected. See website for further details and bookings.
This holiday home offers 4-star accommodation in a traditional Worpswede farmhouse. The pretty house accommodates up to 5 adults and has a large kitchen diner. Not suitable for pets, smokers or disabled guests. €210 per person for a minimum 3-night stay.
The former Art Nouveau home of artist Hans am Ende is now a 4-star hotel with 52 rooms, with some offering private balcony or terrace. Pets allowed by agreement. All guests have access to their wellness centre. Basic single rooms start at €55 per night, and doubles at €90, based on a minimum 5-day stay. Also offers a local culture package and a 'bad weather enjoyment' special offer.
How do I get there?
By bicycle: It is very popular to cycle the 21 km from Bremen to Worpswede as the terrain is almost completely flat and there are well-marked cycle ways. Bicycles can be hired from the Radstation outside Bremen Central Station from €11.50 per day. In Worpswede, Fahrradladen Eckhard Eyl (Finddorfstraße 28) hires out bikes from €6 per day.
By bus: The 670 bus from outside Bremen's central station travels to Worpswede about 20 times per day Monday to Friday and every 2 hours on Saturday and Sunday. The journey takes about 50 minutes each way. Tickets cost €4.55 for adults and €2.25 for children. Check times at www.fahrplaner.de or at the bus stop in Bremen.
By train: In the autumn and winter you can take a train from Bremen central station to Osterholz-Scharmbeck station and then catch bus 640 on to Worpswede. The total journey takes about 35 minutes and costs €6.80 for adults and €3.40 for children. From May to October, the vintage Moor Express runs between Bremen and Worpswede 4 times a day on weekends. Tickets cost €5.50 for adults and €2.80 for children. Further details can be found here, or ask at Bremen Central Station or at local Tourist Information offices.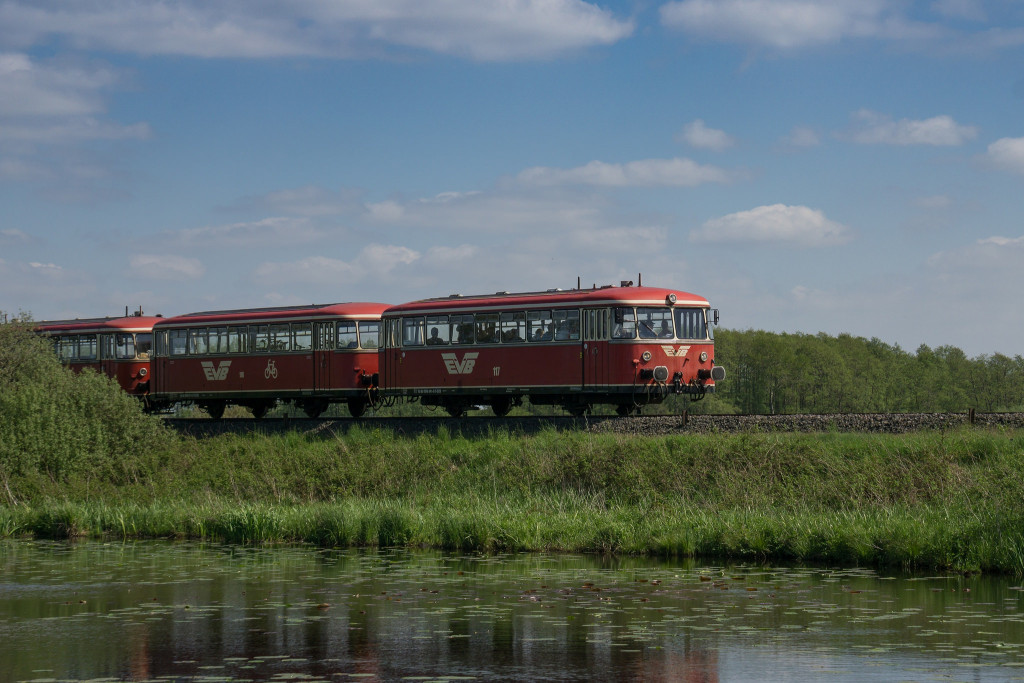 The following two tabs change content below.
Author and Creator
at
Economical Excursionists
Former teacher turned blogger turned mom turned full time travel addict, LeAnna has never been one to live life by the rules. Whether she is moving to a farm in Switzerland to learn to make cheese (Yes, CHEESE), jumping off a mountain to paraglide over Cinderella castles, or taking her baby all over the world with nothing but a backpack on their backs, LeAnna designs and defines her OWN life. LeAnna, her husband Andy, and kiddo, "Lil B" love to live a minimal lifestyle, not only for the "thrill" of pinching pennies but in order to save for traveling the world. Considering over 40 countries and 90+ cities have been explored, we'd say they are doing something right!
Latest posts by LeAnna Brown (see all)